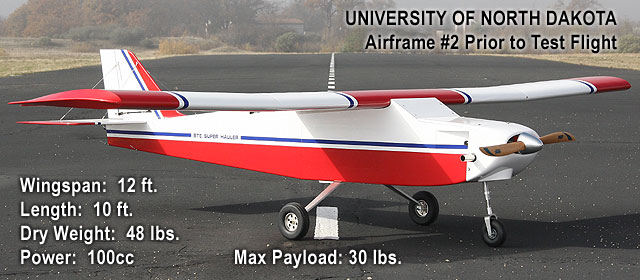 Three
BTE Super Haulers
were built at BTE in 2008 for the University of North Dakota. Engines and R/C equipment were installed in two of them, and the aircraft were test flown by Bruce Tharpe before delivery. The third airframe will serve as a backup, if needed. The engineering students there have converted their first Super Hauler into a true UAS (unmanned aerial system) by equipping it with an autopilot and various payloads. At least one graduate student has earned his PhD using data collected by his payload flown in the Super Hauler UAS. This simple, all-wood design is ideal for the University setting because it is easy to fly, easy to maintain, and perhaps most important, easy to modify to suit a variety of experiments.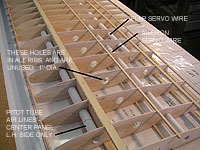 WING CENTER SECTION
The Super Hauler wing is built in three sections. The beefy center section, shown here, spans six feet. The two outer panels, each spanning three feet, are removeable for easy transport. In this airframe, a pitot tube is incorporated in the wing joint on the left-hand side. Construction is traditional model airplane - balsa ribs and sheeting; hardwood main spars.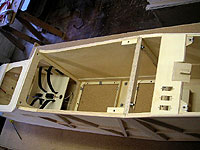 FUSELAGE FRONT
The fuselage is constructed in two sections, front and rear. The sections are bolted together and may be disassembled for transport, if necessary. Here you can see the massive, uninterrupted payload bay. The inside dimensions are 11.5" width x 13" height x 22" length. Max payload weight is 30 lbs. Changing payloads should have little effect on the balance point of the aircraft. Primary access is from the top - the wing removes with two bolts. This airframe also has two hatches on the bottom.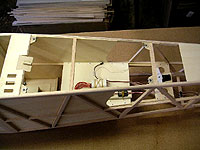 FUSELAGE REAR
Again, you can see the traditional balsa construction. The rear fuselage section features a large hatch for access to the radio equipment and autopilot. Removable plywood plates make this area easy to re-configure or modify. Servo wires for the wing are routed up and over the wing trailing edge, so connections can be made quickly and easily after assembly.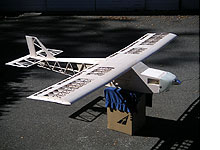 ASSEMBLED AIRFRAME PRIOR TO COVERING
This is also known as a "bare bones" shot. The Super Hauler design is based on BTE's popular Super Flyin' King, which is a rugged, aerobatic sport R/C model. The Super Hauler is optomized for lifting with a more-cambered airfoil, 12" more wingspan, and longer flaps. The fuselage was lengthened 24" for greater stability, and widened for greater payload capacity. The Super Hauler is not available as a kit - they are built to order at BTE.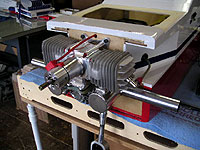 ENGINE INSTALLATION
The UND aircraft are all be powered by the ultra-reliable Desert Aircraft DA-100. The mufflers were custom made for this aircraft to exhaust on each side. Large cooling ducts were designed into the airframe to keep the engine temps low. Two Du-Bro 50 oz. fuel tanks are installed, and providing over an hour of duration. A large nose hatch and "windshield" hatch allow easy access to the tanks and engine equipment.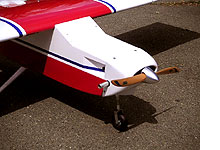 FINISHED AIRCRAFT - NOSE
A sparkling Tru-Turn spinner and custom fiberglass cowling help streamline the bulky front end. The 27" diameter Vess propeller provides tons of thrust, and flies the aircraft at cruise speeds around 60-70 mph. The rugged, spring-loaded nose gear strut was manufactured by Sierra Precision.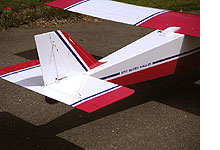 FINISHED AIRCRAFT - TAIL
The covering is all Monokote, chosen for its light weight and easy repairability. The tail unit - fin, rudder, stabilizer, and elevator - is removeable with five bolts for transportation ease. The elevator servos are located under the stabilizer; each servo drives one half of the split elevator. Adjustable tail brace wires are used for tail strength and rigidity.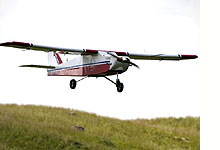 IN FLIGHT
You can see here that the UND students have installed a pitot tube and several antennas on this Super Hauler. Surprisingly, the aircraft are part of the Electrical Engineering Department, not Aerospace. The students focus is on developing various payloads. The Super Hauler, in this case, is just a robust tool for them to test their projects in the air.