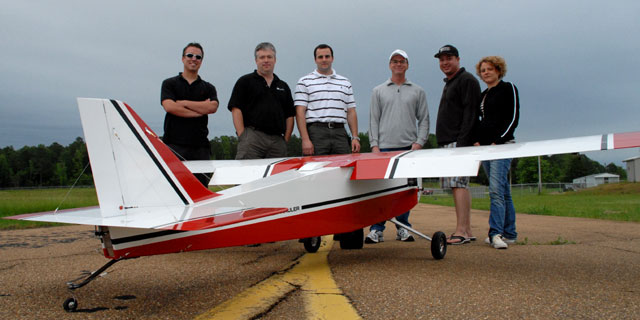 Bruce built this unique Super Hauler in early 2009 for the TornadoVideos.net (TVN) team that appears on the Discovery Channel's "Storm Chasers" program. It was operated by a crew from Radiance Technologies. They flew in front of four different oncoming tornados and dropped probes equipped with parachutes. It appeared on the show during Season 3, episodes 6 and 8. You may see more of it in 2010 if Discovery decides to do a fourth season.
TVN leader Reed Timmer is on the far left, Bruce is third from the right in the photo above.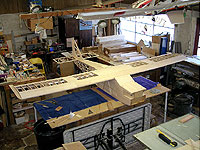 BARE BONES AT BTE
This project took Bruce about eight weeks from receipt of the purchase order to delivery in Mississippi. It is generally more efficient to build multiple airframes at a time, but due to the many unknowns involved with the mission, TVN wanted to start with a single unit. The design is somewhat refined over the earlier UND aircraft, shaving a few pounds from the overall weight.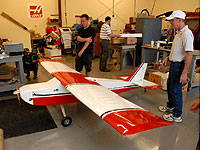 OOH AND AHH TIME
The aircraft was actually delivered to Radiance Technologies in Oxford, MS, who also does all of the electronics work on TVN's storm research vehicle (SRV), also known as the "Dominator". TVN and the Discovery camera crew happened to be there as well, so the entire delivery was filmed. Here you can see Reed Timmer admiring his latest research "gadget" for the first time while Bruce points out some of the aircraft's features. Look close and you can see a crouching cameraman off to the side.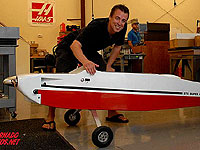 REED TIMMER, STAR OF STORM CHASERS
Discovery made us all wait until Episode 6 (Season 3) for the grand introduction of the Super Hauler. Bruce got about five seconds of "facetime", all in the background. The real star of the series is Reed Timmer who consistently outmaneuvers the better-funded teams and demonstrates a passion for storm chasing that is second to none. He put a lot of faith in BTE and the Radiance crew to make this risky project work, and it definitely resulted in the coolest piece of equipment used in the show!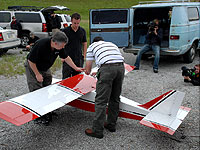 FIELD ASSEMBLY
David Harris and Chad Williams of Radiance Technologies assemble the Super Hauler as Reed supervises. David and Chad were the actual operators of the aircraft. They also developed the probes and the drop mechanism. During chases, the Super Hauler was transported in a trailer with the wing center section bolted in place, so all they had to do was slide the outer wing panels on making it ready to fly in a matter of minutes.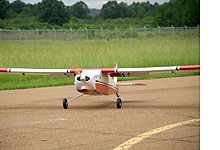 TAKEOFF ROLL
Bruce did a complete systems test and two test flights in Oregon before delivery. An additional check out flight was performed in Mississippi, primarily for the cameras. Conditions were ideal for this flight, but things were very different during chases. They all understood the risks involved with the mission and always operated the Super Hauler in a safe and conservative fashion.