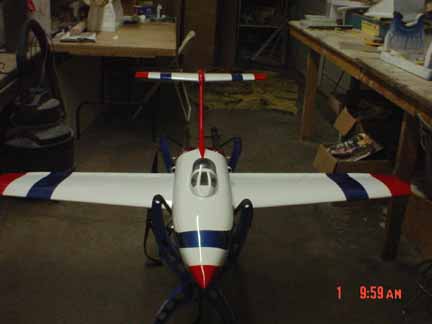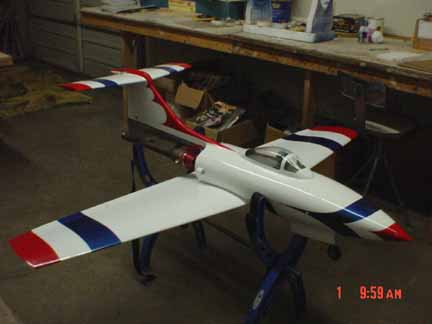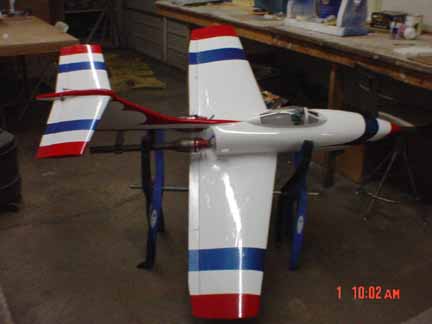 The T-Whammy was built by a group of modelers in the Tucson, AZ area. This is actually the second model built by the group. The first one needed lots of nose weight and came out very heavy, although it did fly successfully. They modified the basic Double Whammy design by adding a "T" tail, retracts, and clear canopy. One of the builders sent me the photos shown here and the following info:

"About the T-Wammy. It weighs right at 14 pounds dry with a pound of lead in the nose. About a pound and a half lighter than our original. Still has retracts like the original. Most of the weight change is a result of moving the CG aft. Asyou can see in the pics, we changed the plan view of the wing to a straight trailing edge with the same airfoil as the Double Whammy. This moved the CG back to 9-3/4 inches forward of the trailing edge at 28% of MAC. Don't know exactly where Bill balanced the ship but it is close to that, maybe a little less than 28%."

The T-Whammy has made a number of thrilling flights, guided by the golden thumbs of Bill Hemple, Jr. of T.O.C. fame. Some of you may have also seen this model in the static display at the AMA Convention in Ontario, CA last January. It took home first place in the "Sport Jet" category!

Congratulations to Dick, Bob, Bill, and the rest of the gang on a job well done.