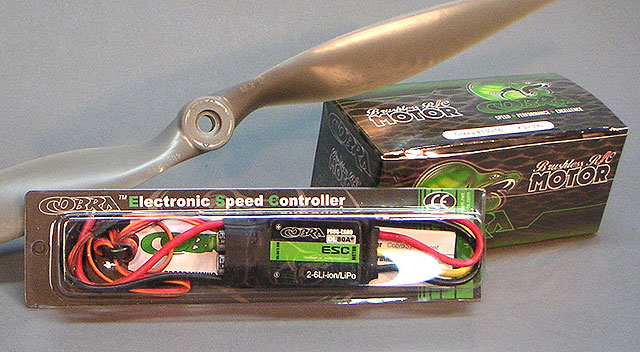 BTE worked closely with Lucien Miller and the good people at Innov8tive Designs to determine the ideal setup for our Flyin' King model. We wanted components from a stable supplier that offered quality, reliability, and support. Another goal was lots of power without creating a lot of heat; a system that would not be over-stressed by pushing the motor, ESC, or battery to their upper limits. This power package combined with a 6S LiPo battery (not included) impressed us during testing and easily met all of our requirements.

If you are new to electric power, you will be amazed at the instant acceleration when you go to full throttle. It powers the Flyin' King with ease through sport aerobatics like big loops, towering stall turns, and even knife edge flight. You will also be amazed to learn the Flyin' King is a fantastic glider when you pull the stick all the way back (TIP: try half flaps for best glide). Duration varies with flying style, but most pilots will be able to fly safely for over ten minutes with a 5000 mAH LiPo.





About the Cobra C-4130/16 Brushless Electric Motor
Yeah, you can find cheaper alternatives (and more expensive ones too!), but BTE selected the Cobra line as the best bang for the buck. This is a high-quality motor featuring a 6.0mm shaft for superior strength and oversize ball bearings designed to provide a long service life. The packaging is first-class with foam padding all around. Included with the motor is a thick cross mount, a threaded prop adapter, and three bullet connectors for the ESC.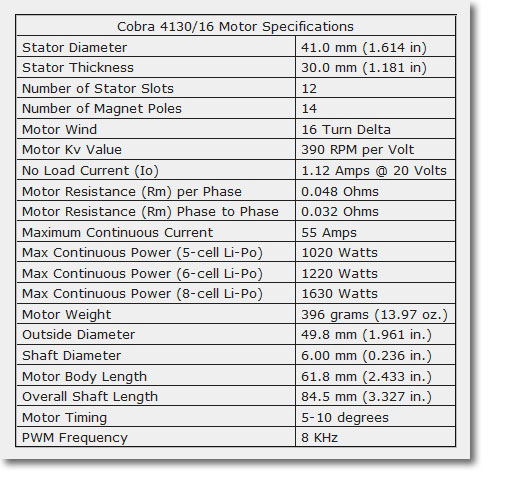 About the Cobra 80-Amp Electronic Speed Controller (ESC)
Another top-quality product that is perfectly matched with Cobra brushless motors. For those who are new to electric power, the ESC essentially replaces the throttle servo used for a glow/gas engine. But it does more than that. It has a Battery Elimination Circuit (BEC) that allows you to power your RC equipment from your flight battery. It provides a clean 5.5V to the RC system (6A max). This ESC has several programmable features, but honestly, it's ready to use in the Flyin' King straight out of the box.