BTE Super Flyin' King Handibond Package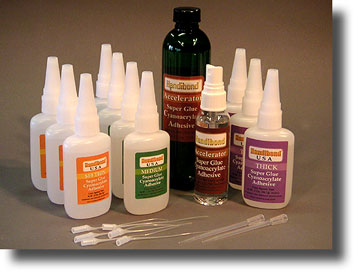 This package of high-quality Handibond CA is tailored specifically for the Super Flyin' King kit. Use the thin for general construction. Medium CA is used for all the lite-ply and for reinforcing all the glue joints in the structure. Thick CA is useful for applying the fuselage doublers, wing sheeting, and capstrips. The long glue tip really comes in handy for reaching all the nooks and crannies. In addition to the CA, I recommend purchasing some aliphatic resin (yellow glue like Tite-Bond or Elmers wood glue) and some slow-dry (30-minute) epoxy. The instruction book often specifies certain glues for certain steps.

Click Here for more Handibond Product info.


3 Handibond CA 2 oz. Thin
4 Handibond CA 2 oz. Medium
3 Handibond CA 2 oz. Thick
1 Handibond Accelerator 2 oz. Spray Bottle
1 Handibond Accelerator 8 oz. Refill Bottle
2 Extra-Long Applicator Tips (use with medium CA)
6 Micro Applicator Tips (use with thin CA)


While building the four SFKs for NASA, we kept track of the amount of CA used. This newly revised package reflects our usage, but we understand if you want to customize your mixture of thin, medium, and thick CA. No problem! Just let us know what you want - we can adjust the combination of glues to suit your building style.
<Back To Super Flyin' King Page